Section 1: The Western End

August 20 Arrival & La Habana
La Habana assaults the senses. I generally consider myself to be a competent person, but Habana hits hard and left me feeling little overwhelmed. I'm sure that this was partly due to the long flight and lack of sleep on the previous day. But, to be sure, there was a significant component of culture shock at work. As I mentioned above, on the cab ride from the airport, I was in the hands of a rather maniacal driver. At this point, as he sped around and through the crowds of people biking and walking along the highway to the city, I began to wonder what I had gotten myself into.
However, there were no major incidents, and after the short ride I was dropped of at my accommodation for the night, the five-star Hotel Florida. The Florida is located in Habana Vieja, the old colonial part of the city, right on Calle Obispo one of the pedestrian-only streets in this part of town. It was once the mansion of a colonial aristocrat, but in the 19th century it was converted into a hotel. In modern times, it was restored to current standards and rooms filled with beautiful furniture, beneath 12-foot high ceilings now surround a pretty courtyard where local musicians entertain the guests.
My first task was to unpack and reassemble the bike. Fortunately, everything survived the trip in good shape, and this took only a few minutes. Next came one of the uncertainties of the trip, namely, would the hotel be willing to store my empty bike case until I returned one month later? I had a prepaid reservation at the Florida for two more nights at the end of the trip, so I hoped that they wouldn't mind taking care of this. I asked the manager if this would be ok and he said that it would be fine, but that there would be a fee of one Dollar per day. "No problem" I replied and told him that I'd be back in 30 days. He proceeded to charge me $35. Hmmm. Well, I decided that I didn't want to risk him changing his mind, and didn't question that little discrepancy. I consider this as an example of how one of Habana's favorite activities is the separation of Dollars from tourists.
At this point it was only about 2 P.M., so I decided to set out and do a little sightseeing. The Hotel Florida is within a short walk of most of Habana's best sights, and I headed toward the city center and the Capitolio, which is, architecturally at least, modeled after the U.S. Capitol. This is really when the city starts to smack you in the face. Crowds of people mingle in every direction, many of which try to start up a conversation with you as you walk by. Motorized vehicles weave their way through the crowds, belching out their noxious cloud behind them. Street hustlers, known as jiniteros, pick out fresh-off-the-plane Yanqui tourists from a great distance, track you down and try to sell you cigars. It really is crazy, and I wasn't quite ready for it. Nevertheless, it was also fascinating. There is a small park next to the Capitolio with statues of heroic historic figures, including one of Abraham Lincoln. Several of the most important city buildings such as the Gran Teatro, have been restored in recent years and are quite beautiful. Many of the others don't appear to have had a fresh coat of paint in the past 100 years and have laundry hanging out the windows to dry.
After a couple of hours of this, I couldn't take much more and decided to head back to the hotel for a quick nap. This turned out to be a great decision because a few minutes after I returned, a big cloudburst opened up and drenched the city. Later, after dark, I ventured out into the old city again to look around a little more and grab some dinner. Things seemed a little calmer this time, and I ambled through the narrow alleys and old plazas along the waterfront. This was the first time that I realized just how relaxed and safe a tourist can feel in Cuba. I was carrying all the cash for the month with me, though unlighted alleys by doorways where locals stood chatting with each other. I couldn't imagine doing the same thing at home without constantly feeling anxious. But here no one paid me any mind, and this made quite an impression on me. Eventually, I found a decent restaurant, where I had a reasonable meal and received at least one marriage proposal. Since I had an early start planned for the next day, I politely declined that offer and retired for the night.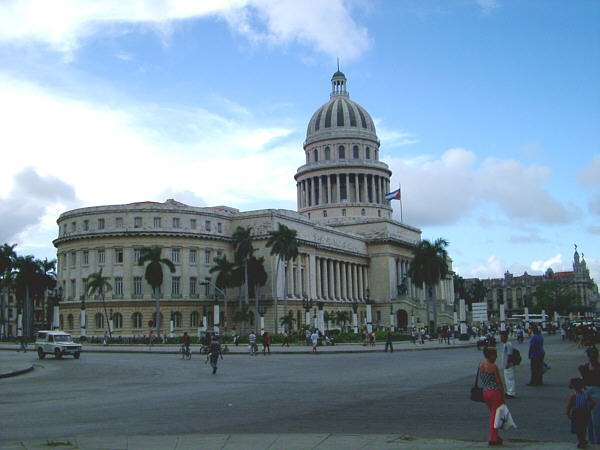 The Capitolio in La Habana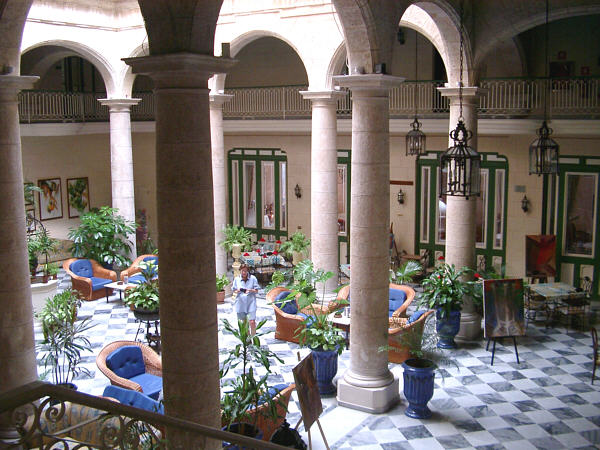 The Courtyard of the Hotel Florida
August 21: The First Day
La Habana to west of La Palma
Now the real fun begins! Early in the morning I said goodbye to the staff at the Hotel Florida, who looked a bit unsure as to whether I would really be back in 30 days as promised, and set out for a, hopefully, great tour. The first challenge was finding a way out of the large city of La Habana. This isn't an easy affair, and many bike tourists might be advised to skip the ride and find another way out of town. If there were a train heading west, I might have done this myself. But there wasn't, and so I decided to ride the whole way. In many ways it was just like riding through San Francisco back home-- too much traffic, and no easy-to-follow route. I headed west along The Malecon, the somewhat famous, broad roadway along the western waterfront. This area is not particularly attractive, however, and along the way you may see a long, thin cloud of brown smog drifting out over the Florida Bay, which originates from a large petrochemical plant located on the eastern side of the city.
I continued to wind the through the western neighborhoods of the city, which were more residential, but no less confusing. As I approached the small beach town of Santa Fe, the city ended abruptly, and the "real" Cuba began. Visitors who spend their entire stay in Habana are doing themselves a disservice, because, to me at least, the Cuban countryside is the most interesting and beautiful part of the country. The amount of traffic drops of quickly the father you get from the city, and the rolling green terrain treats you to a splendid ride. At this point, however, it still hadn't sunk in that I was actually here and riding this tour that I had been wanting to do for so long, so I simply rode along, a bit like a zombi. The first town of any size that I passed through was Guanajay, where I thought I would pick up a quick snack. This was my first lesson in the food situation of Cuba. I stopped at an outdoor El Rapido and soon discovered that most of the items on the menu were not available. Maybe it was just too early in the morning, or perhaps everything was sold out. I ended up with a chocolate bar and a large drink.
The route continued west, sliding northward towards the coast along the way. A few vistas gave tempting glimpses of little estuaries. After a while I reached the town where I had planned my first midday break, Bahia Honda. The town is laid out linearly along the main road, and there were hundreds of people milling along doing their daily business. Whatever that was as mysterious as it was to be in the rest of Cuba. Most folks just seemed to be out and about enjoying each other's company. I rode up and down the street a few times casing the place out to find a good place for a meal. The choice was rather limited, and I settled for a couple of Cuban pizzas. Not much for flavor, but at least they provided a few calories. After this repast, I sat down for a rest in the tiny plaza a block away from the main road. Normally, I would plan on resting for 3 or 4 hours at this time of day, and then finishing the day's ride in the late afternoon and evening. However, rest was not in store for this day. The frequent encounters with folks offering rooms for rent, or just stopping to say hello proved a little too distracting. So, after a while, I just decided to start riding again.
The afternoon ride was even more pleasant than the morning section. I was feeling very strong, the road was excellent, and the scenery improved with every kilometer. To the south, a pretty range of hills rose up parallel to the road, along the way little settlements lined the route, their homes surrounded with gardens and guarded by free roaming pigs, chickens, and goats. At one point, I encountered some young boys selling some sort of tropical produce along the roadside. They were large, green, and pear-shaped and I bought three because I thought that they would make a nice bedtime snack. So, I cruised along enjoying the rest of the evening, and in the process covered a little more distance than I had originally planned for the day. But I felt great, and in such situations I'll always go the extra distance as a trade for an easier day when I might need it in the future.
As dusk approached, I passed through the little village of La Palma. I began looking for a place to sleep just past the village. However, this gave me another lesson in the logistics of Cuban travel, as homes and farms lined the roadway for quite a distance from La Palma. I hadn't expected this level of difficulty in finding a place to put up my tent, and when I eventually selected a site, it was less than ideal, with people passing close by well into the night. After a while, I settled down, and pulled out the snack that I had purchased earlier. However, to my dismay, as I cut though the peel, I did not find the tasty tropical fruit that I was expecting, but rather some sort of bitter, green flesh surrounding a huge brown seed. Obviously, cooking would be required, and since that was not possible, into the woods they were tossed. The final lesson for the day; when purchasing unfamiliar produce, taste before you buy.
Distance: 180 km
Max temperature: 35 °C; Skies: Sunny
Terrain: flat to rolling
Countryside west of La Habana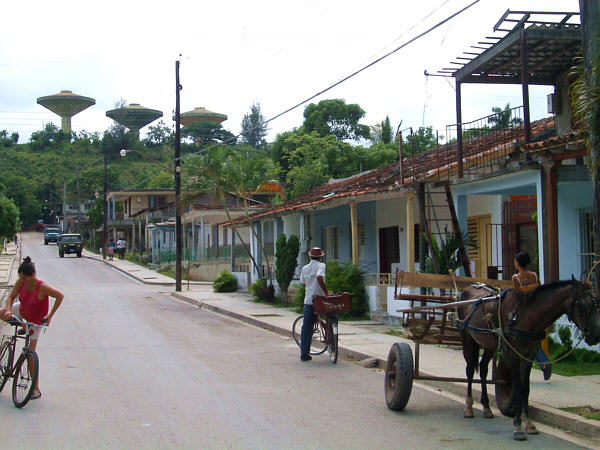 Unusual watertowers lurk over Bahia Honda
August 22: The Day of Mogotes
W. of La Palma to east of Guane
This day began early, as usual, and right from the start was one of the nicest of the whole trip. After a few kilometers, the road turned inland towards the south and the picturesque tourist area of Vinales. Along the way, the road gently climbed into the hills and became lined with even thicker foliage. After a while, I stopped at the little tourist site, Cuevas los Indios (Cave of the Indians). There is a small bar here and a little motorboat that will take you into the cave along the small river that flows into it's opening. Once inside, the boatman drops you off for a few minutes where you can walk along the pathway in the cave for a while. It's not a geologically spectacular cave, but I like caves in general, so I thought it was fun.
Continuing on, I entered a pretty valley after a few more kilometers and as I neared the village of Vinales, I encountered another group of young boys selling fruit at a stand. This time I was a little more careful. They had some really large papaya (more appropriately called fruta bomba in Cuba), and after verifying their identity with a quick taste, I bought three big ones.
In a few minutes, I entered Vinales, which is one of the most famous tourist destinations in Cuba, though it still retains a small, undeveloped feel. I sat down in the beautiful little plaza, and since the locals are more used to tourists, I was able to relax for a while without being interrupted. Since the day before was rather light on food, I took the opportunity to grab a large meal. I powered down one of the fruta bombas, picked up some more food at a reasonably well-stocked Dollar store, and then had a nice meal at the Casa Don Tomas, one of the nicest restaurants I visited in all of Cuba. If this had not been the second day of the tour, I would have happily spent a little more time here. But, since it was I continued on in the afternoon, for what turned out to be one of the nicest rides that I can remember.
Just outside of town the road enters the famous Vinales Valley, which is sometimes referred to as "the Cuban Yosemite." Indeed, there are some similarities, with high rocky monoliths rising up from a broad green valley. However, where El Capitan and Half Dome were formed by glaciation, the hills of Vinales, known as Mogotes, are a karstic landscape. This means that they are the remains of a limestone plain that was uplifted and weathered. In fact, as I learned once I returned home, there is a unique evolutionary result of this odd landscape. Apparently the walls of the hills are so steep that much of the life on the top of each Mogote is isolated from its surroundings. Because of this, the local populations of snails are separated from one another, and each Mogote has a unique sub-species of snail living on its top. For these reasons, and its general beauty the Vinales Valley is classified as a UNESCO World Heritage Site.
The ride through this area is simply amazing. There is virtually no car traffic, and you are much more likely to encounter another cyclist, or a family walking along the road. By now, I had relaxed a bit and settled into full "touring mode" and as such, I just enjoyed soaking in the countryside. Also, I began to interact more with the people I passed along the way. The first day, I was still trying my best to get my bearings straight to pay much attention to the locals. But now I started shouting out a friendly "Hola" to the people walking or riding along. This universally met with smiles, waves, and shouts of encouragement that I could only vaguely understand. I began to wish that riding back at home could be more like this.
Leaving the Vinales valley, I entered another, the San Carlos valley. This valley is equally scenic to Vinales, but not on the normal tourist route, so it's even more authentic. In fact it is now on my list of all-time favorite rides. The narrow road rolls gently though pretty hills laced with thatched-roofed homes, and decorated by royal palms. Only a few little villages are along the way, and in the village of San Carlos I paused for some cookies and refrescos. The population density is a little less here, and as night fell I found a nice spot to sleep, well hidden in a small patch of woods. Here, as I was waiting to fall asleep, I saw little fireflies blink on and off around my tent. This is something that really took me back to my childhood, as I have not seen any of these little buggers for many years. Then something similar, but more astounding appeared. Above in the canopy, as I was watching the stars, a Cucujo passed overhead. The Cucujo is also known as the Jamaican fire beetle, and it is the world record holder for the brightest bioluminescent lifeform. It flies, quickly and straight, through the treetops and then lights up like a white flare for a steady 10 seconds. Amazing. After a day like this, I was now sure that this would be a great tour.
Distance: 118 km
Max temperature: 34 °C; Skies: Morning sun, Light afternoon showers
Terrain: rolling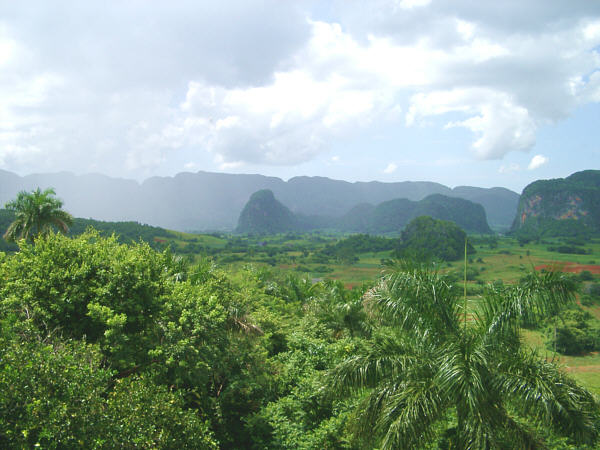 A rainshower soaks a Mogote in the Vinales Valley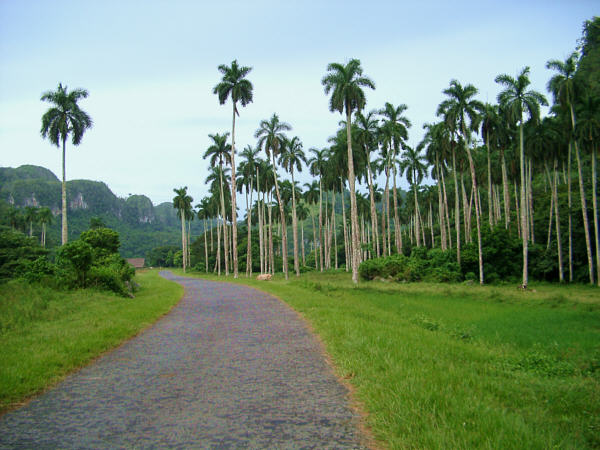 A quiet road winds through the San Carlos Valley
August 23: The Day of the Cigars
East of Guane to east of Los Palacios
This day started out with a slight descent out of the valleys down to almost sea level, and through the small towns of Guane and Isabel Rubio. These towns were busy, though they looked a little neglected. One month later, they took a direct hit from Hurricane Isidore, so perhaps are in even rougher shape today. At Isabel Rubio I reached the westernmost part of the tour and swung around to the east. The terrain for the rest of the morning was more open, with fields being plowed by oxen lying between the road and the distant hills. There was still a bit of roll to the road and now a slight headwind picked up for the first time on the tour. With the bright sun, the morning ride felt fairly tiring.
Upon rolling into the town of San Juan y Martinez, I decided to stop for some drinks. Looking around, a couple of local fellows on their bikes attached themselves to me. They were pleasant enough, and spoke a little English. They showed me to a local watering hole and where to buy some bananas, even though I really didn't want any. We chatted for a while and they invited me to the town's music festival that night. I might have gone if I hadn't planned to be much farther along by the end of the day. I told them that I had to make it to Pinar del Rio, and then they hit on plan B. One of them worked at a tobacco plantation along the way to Pinar, and would take me there for a tour. Well, I don't have much interest in tobacco, but I couldn't figure a way out of this one, and it was on the way, so I gave in. A kilometer from the main road, down a dirt path, was the plantation, which actually was more like a small family farm. One well-dressed fellow came out who spoke excellent English and obviously was the family's designated tour guide. He took me to a 5 x 5-meter plot of tobacco and spoke for a while about the different types of leaves. Then the rest of the family came out and they served a me little cup of strong coffee.
Now came the inevitable request for a donation to the family enterprise. They were nice, so I contributed, probably a little more than I should have. But then I tried to draw the line when they took me to an out-building where there was a lovely display of the final product, the family's special cigars in beautiful wooden boxes, for only $50 each. I tried to tell them that; I don't smoke, Americans can get into big trouble by trying to bring cigars home, and I didn't have enough room in my panniers to lug a box of cigars over the rest of the island in any case. No problem, they could sell be a smaller box for twenty. I stood firm, and said my good-byes. On the dirt road leading back to the highway, they gave it one more try. The well-spoken guide sent someone to an old barn across the path, and in a moment he returned with 5 cigars rapped in paper. Surely, they said, I'd have room for these and for only $5. At this point I realized that I was not going to get away without some of the family product. So, I gave in, thanked them and rode off. This all made for a relatively expensive day. Though it really wasn't a lot of money, if I was not careful to avoid these unplanned tourist traps in subsequent days, I could blow through my whole budget. Now the question was what to do with the five unwanted cigars. Just throwing them away didn't seem quite right. Perhaps I could give them to one of the men I had seen puffing on a stogie while driving his ox-cart along the highway.
After this slight delay, I pulled into Pinar del Rio at midday. Pinar is the only large city west of Habana, and though there is a fair bit of tourism in this part of the island, this is a rather plain town and not particularly attractive. Here, I made a visit to a Cuban institution, the ice cream parlor chain called Coppelia. The Cubans love ice cream, and, when on tour, so do I. So, after wandering around the town, I located the local establishment and walked up. At the door the store's host told me I could go right in. I had a couple of scoops of Vanilla, the only flavor that I could manage to order. It was ok, but I later learned that at kiosks, Dollar stores, or even at an El Rapido, you could get 1 liter containers from a much wider selection of flavors. As I walked out, I noticed a line of local people stretching down the sidewalk. I then realized that as a foreigner, the host simply let me cut ahead of this long line of customers, which apparently is the official policy. I didn't have much of a desire to go to another Coppelia after that.
The afternoon ride was quite nice, the Carreterra Central east of Pinar was surprisingly quiet, and the countryside very pretty. A couple of little towns broke up the ride. East of Entronque de Herradura, I was descending a small hill when two other cyclists, and elderly man and a teenager, who were going the other way shouted at me "No! No!, Agua!, Agua!". They were trying to tell me that a bridge up ahead was washed out. They didn't speak any English, but I pulled out my map, and they pointed out another route. Their warning saved me perhaps 10 km of wasted distance, and as a thank you, I gave the older many the 5 cigars that I still had in my handlebar bag. You would have thought that I gave him a hundred dollar bill, as his smile stretched from ear to ear. Now, that I think about it, being as opposed to smoking as I am, perhaps I didn't really do him a favor with this gift. Oh well, I suppose he would have found some on his own in any case.
The rest of the evening I cruised along over some pretty open plains until I returned to the Carreterra Central east of Los Palacios. A few more kilometers passed before I stopped for the night in a small patch of woods adjacent to a reservoir.
Distance: 161 km
Max temperature: 35 °C; Skies: Sunny, afternoon clouds & dampness
Terrain: rolling
A Palm-thached barn near Guane
August 24: The Day on the Frontier
East of Los Palacios to east of Melena del Sur
This day began as most others, except that I discovered that the tube in my rear wheel had developed a slow leak. I exchanged it for one of my spares, and planned on fixing this one later on. As it turns out, I never was able to locate the leak, no matter how carefully I tried. Once back rolling again, the morning proceeded rather uneventfully. The terrain and landscape were similar to the previous afternoon, flat to rolling with verdant open foliage. I was feeling hot, however, and at San Cristobal, the first town of any size on the day's route, I took a quick break. I was curious about this town, as San Cristobal was on of the closest towns to the site where the Soviets began installing nuclear missiles during the crisis of 1962. I wondered whether I would see any legacy of this historic event, but there wasn't a trace, not even a reminder on a political billboard. In fact, this whole area of Cuba was remarkably free of roadside signage of any kind. The odd billboard here or there was usually in good taste and typically described some virtuous social program. It was an interesting counterpoint to the commercial barrage that we are exposed to on US roadways, and made me wonder just which society was the most brainwashed.
In San Cristobal I approached a typical refresco stand and ordered three (they are served in glasses of about 8 ounces, and I was very thirsty.) The older lady at the stand, who appeared to have been a good communist from the Old Days. Poured out three in individual glasses. As I quickly drank them all down she began to read me the riot act (en Espanol). I hadn't a clue as to what I may have done to set her off. But after thinking about it she was either mad that I didn't tell her that all three drinks were for me, thereby making her wash three separate glasses, or she didn't think that one person deserved three drinks at once. I didn't quite know what to say, so I simply shrugged, smiled, said "Gracias", and went on my way. In the whole trip this was the only time that I heard anyone raise their voice, and if that's as bad as it gets, then I have no complaints.
My midday stop was in the town of Artemisa, where there was a decent Dollar store, and a fair choice of other eateries. As luck would have it, I had made all of my purchases, and settled down on a covered patio for my meal before a huge cloudburst hit the town. The bike wasn't so lucky, however, and got a good soaking at its position under a nearby tree.
After a while, the skies cleared out, and I set off for the evening ride. This section was a bit flatter than recent days, and as I headed east the towns took on a decidedly frontier aspect. At one point I passed a small sugar mill and saw the workers there boiling down raw sugar in a huge black cauldron that would have made Hamlet's witches proud. The wood-fired inferno beneath the pot put out a cloud of black smoke that could be seen for several kilometers. I passed through the towns of Alquizar, Guira de Melena, Camacho, and Batabano, all of which seemed more like what I imagined a 19th century town in the U.S. west to have been like than any other places I have ever been. Muddy streets crisscrossed the towns in front of shops and residences that may have had their glory days over one hundred years ago. Or, at least, that is how they appeared. The locals went on about their business, though, in a relaxed and seemingly carefree way that gave these towns some considerable appeal. Many rode old patched-together Chinese bikes through the mud, their presence serving to greatly slow down the occasional truck, or stinky motorbike. It seemed odd to me that these towns, only 40 km south of La Habana, should be the most disrepaired of any places that I visited in Cuba. My guess is that, unlike in the States, their proximity to the cosmopolitan Capitol has had a negative effect by siphoning off local activity into their sprawling neighbor.
I ended this day just past the small town of Melena del Sur, and slept in a quiet patch of grass at the edge of a huge sugar field.
Distance: 148 km
Max temperature: 32 °C; Skies: Sunny, mid-day thundershower
Terrain: mostly flat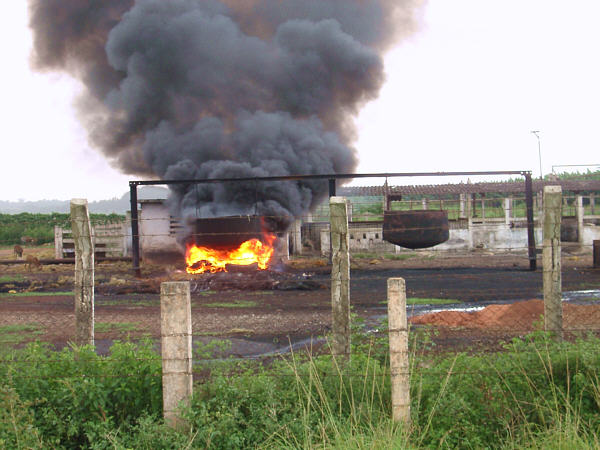 Boiling Sugar near Artemisa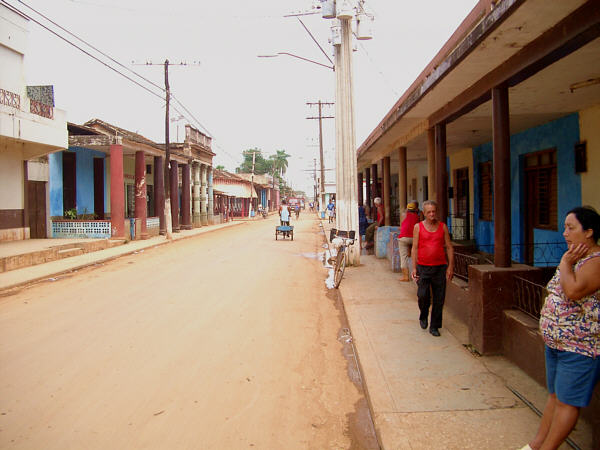 The town of Alquizar
August 25: The Quiet Day
Melena del Sur to Jaguey Grande
This day consisted of a ride through a mostly agricultural area dominated by some huge sugar fields. Other crops are apparently grown as well, for on several occasions I approached what appeared to be a short section of road construction, only to discover that what looked like gravel was, in reality, peanuts or rice spread out on the roadway to dry in the sun. The nuts would be spread out in the morning covering over half of the road's width for about 50 meters. The only warning was a bucket and a rake or broom propped up in the road before the crop began. In the evening someone would walk out and scoop up the dried product.
Midway through the day's distance was the town of Union de Reyes. I stopped here for my break, but soon discovered that this town had also fallen on hard times Someone's horse was tied up on the front porch of an empty civic building beneath Romanesque columns that supported a once beautiful, heavy masonry construction. The Dollar store was open, but the stock on the shelves was quite meager. There didn't appear to be many other open eateries in town, so I ate what food I was able to get from the store and moved on to the next town, Pedro Betancourt. This town was slightly more prosperous, and here there was a decent take-out restaurant where I had yet another meal of fried chicken.
During the day I noticed another slow leak in one of my tubes, this time it was on the front wheel. I was a little perplexed by this, as just like the previous case, it was impossible to find the location of the leak. Both of these tubes were almost new when I left home, and I hadn't really put that much distance on them yet. I now believe that the hot, moist climate had a lot to do with these problems, and the others that were to follow. Several days later, I tried to reuse this tube after a brush with a nasty thorn bush, and in the process I split the valve stem off, about halfway from the base. There were Continental tubes, and now I'm not so sure about their quality control.
In the late evening, I put another 25 km down and rode to the outskirts of the town of Jaguey Grande.
Distance: 141 km
Max temperature: 38 °C; Skies: Sunny, some afternoon clouds
Terrain: mostly flat
Sunrise on the plains, near Guines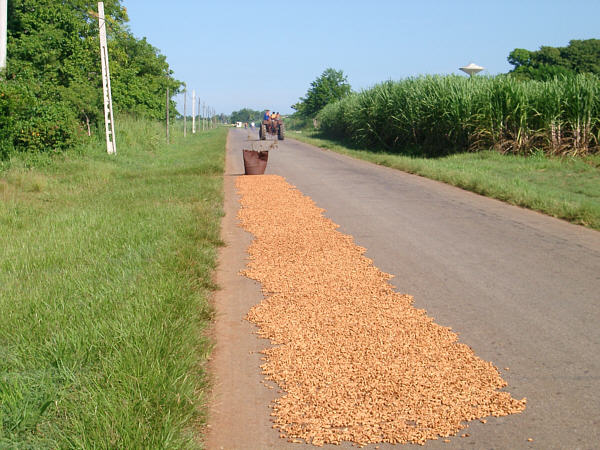 Drying peanuts on the road
Next: The South-Central Coast